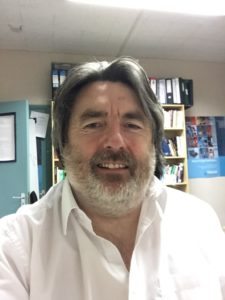 David is the addiction specialist at Canterbury Healthcare. He brings nearly 30 years of worldwide experience as a practising counsellor and addiction psychology teacher to the heart of Canterbury, Kent.
Call 01227 903 503 to book an appointment with addiction specialist David Goodlad
The specialist skills David has make him one of the foremost addiction experts in the UK. He helps people with a range of addictions but is best known for his expertise in:
Addiction specialist David Goodlad – Counselling Experience
Living and working in the UK and Europe, David has contributed to the wide range of experience David Goodlad has gained during his career as an addiction psychotherapist. He taught on addiction psychology at universities in the UK, Mauritius and South Africa before choosing to settle in Kent, UK. He regularly consults to a number of alcohol treatment centres and clinics in Kent.
Call 01227 903 503 now to book an appointment 
Our clients say…

David Goodlad gave me strength and understanding. He gave me the tools to cope with the difficulties of life and the confidence to live happily, with a firm foundation in my heart and mind.  

I saw a counsellor previously, which was of some help at the time, but having worked with David, now I can see that they were light years apart in terms of knowledge, skill and investment.  

If you are reading this, you are probably considering calling Canterbury Healthcare to start on your journey – I urge you to take this first step and put yourself in David Goodlad's highly gifted hands.
Qualifications and Professional Recognition
MA – Masters in Counselling and Psychotherapy from University of Manchester
RSAM BACP (Registered Senior Accredited Member) – Senior Accredited Practitioner, British Association for Counselling and Psychotherapy
ICADC – Internationally accredited Alcohol and Drug Counsellor, United Kingdom Board of IC&RC (USA transferable)
ATSAC – Member of the Association for the Treatment of Sexual Addiction and Compulsivity
ADAP – Accredited Drug and Alcohol Professional, Federation of Drug and Alcohol Professionals, UK
SASSI – Accredited substance abuse screening, interpretation and profiling
NCAC – FDAP accredited Counsellor, Federation of Drug and Alcohol Professionals, UK
FRSPH – Fellow of the Royal Society for Public Health, Royal Society for Public Health